The increasing supply of legal marijuana is turning into a major buzz kill for growers as prices plunge — and an opportunity for companies that can help cut production costs.
Prices are tumbling as formerly illicit cultivators emerge from the shadows to invest millions of dollars in massive pot factories. In Colorado, the average price sought by wholesalers has fallen 48 percent to about $1,300 a pound since legal sales to all adults started in January 2014, according to Cannabase, operator of the state's largest market. Supply is surging as growers expand and install the latest agricultural technology.
"Anybody that is investing in this sector or starting a business in this sector needs to be doing so with the understanding that the price of cannabis is going to drop precipitously," said Troy Dayton, chief executive officer of Oakland, California-based Arcview Group, a marijuana investor consortium. "The agricultural technology space is already booming, and now they get to lay their hands on the cannabis industry."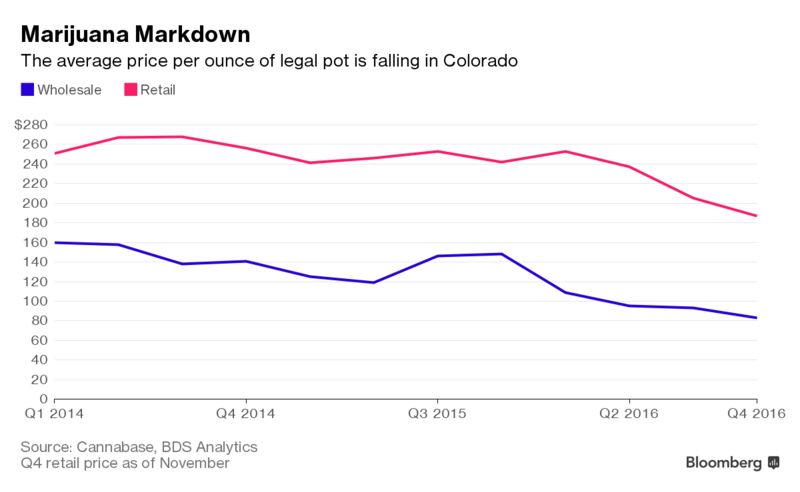 The focus on efficiency can cut production costs for some indoor growers to less than $300 a pound from more than $1,000, said John Chandler, a vice president at Urban-Gro in Lafayette, Colorado. His company sells machinery originally developed for tomato greenhouses, such as automated feeding and watering systems from Israel's Netafim Ltd. and France's Dosatron International.
"If you want to compete on a price game, you have to use versions of our technology to do it," Chandler said. "Everybody is putting in irrigation systems, so that's good for us."
Follow the link to read the rest of the article. http://bloom.bg/2j2vp2u